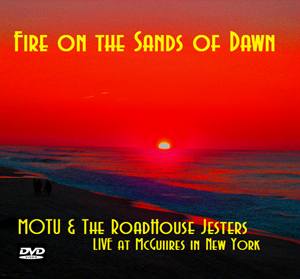 FIRE ON THE SANDS OF DAWN - MOTU & THE ROADHOUSE JESTERS LIVE @ McGUIRES is the NEW DVD from the 2009 International Blues Challenge (IBC) Semi-Finalist and TWO TIME BILLBOARD WORLD MUSIC Winner;MOTU! CLICK HERE FOR MORE INFO ON THIS DVD.

...and also check out MOTU & THE ROADHOUSE JESTERS

NEWEST CD

LIVE @ PORT JAZZ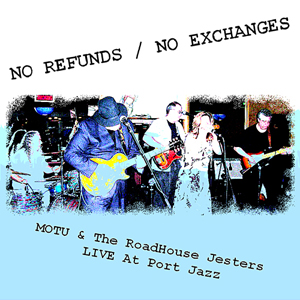 CLICK HERE FOR MORE INFO ON THIS CD.
Read the RAVE REVIEWS about MOTU's Band: MOTU & THE ROADHOUSE JESTERS...


"The constant toothy presence of MOTU's electric guitar is a tightrope walk across a pit of hungry gators in the tradition of blues greats like John Lee Hooker and Buddy Guy! "
-The Deli Magazine; Music Recipes from the Big Apple
----
"This is the real deal: unfiltered, honest music that could easily resonate with anyone who's experienced a rough road. MOTU's tough, yet vulnerably aching sound is the stuff great American tales are made of."
- Elmore Magazine
----
"Such passionate, and impressive, music says volumes about the talent possessed by MOTU."
-Neufutur Magazine
----
"Dr Richard (MOTU) is a fabulous slide guitarist... They are the best part of an Oreo cookie...even without milk."
-GoodTimes Magazine
----
"The new one from MOTU & The Roadhouse Jesters is chock full of rockin' good blues. "
- Jerry Schaefer, host of Graveyard Blues on Long Island, NY's ONLY Classic Rock Station 103.9 WRCN FM.
----
"Dr. Richard Michelson, a formidable blues guitarist and very raw singer... we are talking some serious blues"
-Jazz.COM
----
Listen to MOTU and learn why the Long Island Blues Society calls him, "Interpretive, talented, and visionary!" MOTU's latest DVD, and CD, are both guaranteed to please the toughest music critic!